Bach Club Soloists
A beautiful object – new music for the harpsichord
Work in progress
Project: a concert and recording of new music for the harpsichord and an ensemble, including a new commission.
Henry Purcell / arr. Benjamin Britten / arr. Pawel Siwczak Chacony
Héloïse Werner A beautiful object, 2021
Stephen Dodgson Sonata for Four, 1982
Unmeasured Prelude leading to
improvisation upon the ground bass, in a modern style inspired by baroque
Manuel de Falla Concerto for harpsichord, 1923-26
Contemporary composers are again attracted to the harpsichord, exploring the instrument's potential, unconventional approaches and leaving no parts unexplored. Bach Club has recently commissioned a new work from Héloïse Werner. Her piece "A beautiful object" will premiere it in this concert, in a programme of contemporary music for the harpsichord and small ensemble of modern instruments.
De Falla's chamber concerto for Harpsichord and Flute, Oboe, Clarinet, Violin and Cello was written over the years 1923-26 in collaboration with, and dedicated to Wanda Landowska who premiered the work. Pawel Siwczak who will play the harpsichord solo part, has a special affiliation with Wanda Landowska – through his Polish heritage and his educational path that can be traced directly to her and her closest collaborators. Teaming up with members of Britten Sinfonia, this will be an exploration of the interplay between old and new, harpsichord and modern instruments, an existing work and a piece created especially for us.
Stephen Dodgson was a versatile and immensely prolific composer who, as well as writing large scale works, had a special affiliation with guitar, recorder, and harpsichord. Pawel recorded Stephen's Dialogues for guitar and harpsichord, and in this concert we will be exploring his chamber Sonata for Four.
The programme will weave in stories around the music and composers, told from the stage, to paint the context and dive a bit deeper into the instrument (in case of some pieces, literally). However, this will not be a lecture concert but part of a concert design with approachability and a sense of lightheartedness at its core, aimed at lowering the barriers between audience and performers, and underlining the story-telling power of music.
Raised so far (updated periodically)

19%
New Music for the Harpsichord
Celebrating harpsichord as a beautiful and mysterious object, blending old and new sound worlds, and presenting this instrument in a new light. The world premiere of a new commission, only just written especially for us by Héloïse Werner, alongside Manuel De Falla's Concerto for harpsichord, music by Stephen Dodgson, framed by baroque improvisation. This project features harpsichord with five modern instruments: flute, oboe, clarinet, violin & cello.
Be part of our journey
How will your gift help us?
Apart from the main goals above, you will support us in:
cost of the new commission from a young composer

engaging 6 professional musicians

organizing rehearsals and presenting a live concert in London

costs related to recording the performance

venue, promotion, technical, and other essential costs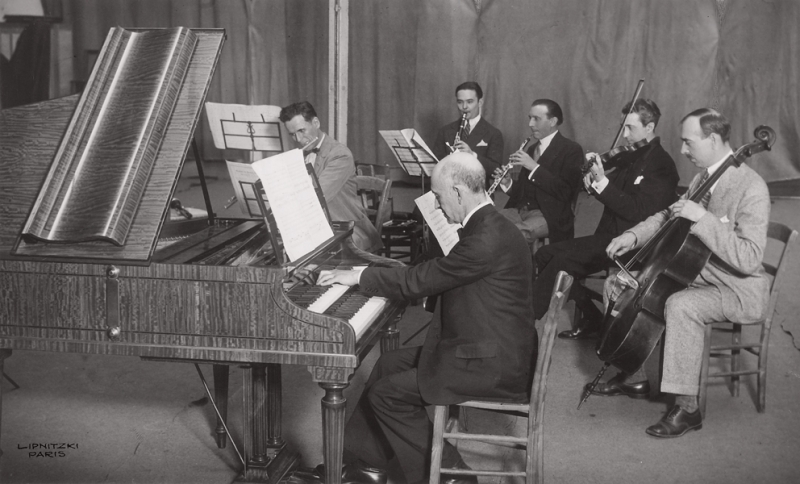 Manuel de Falla recording his harpsichord concerto
You may also be interested in